Some idea of the minimal hours flown by the Marathons can be gauged from the records for c/n 127 (originally G-AMGW). This aircraft fist flew in 1951, with a total of 18 hours and 10 minutes in the logbook for the rest of that year. Following the cancellation of the BEA order it was placed into storage in 1952 and didn't fly at all that year (bear in mind that it had been sold to WAAC in September that year and obviously didn't get airborne until the following year). In 1953 - its only complete year of WAAC service - it flew 472 hours and 7 minutes. The following year it put just 141 hours and 5 minutes under its belt and in 1955 (by which time it was up for sale) a minimal 39 minutes.

Three WAAC Marathons awaiting delivery at Radlett during 1952. Nearest is c/n 128, VR-NAO, which later flew as a flying showroom for jukeboxes.
The WAAC Marathons were ferried back to the UK and from January of 1955 had been advertised at £14,000 each by London-based WS Shackleton Ltd with airframe times ranging from 350 to 1,500 hours. They all found buyers.
Fleet:
c/n 112 G-AMEO to WAAC as VR-NAI 22Mar51 to 07Aug51. To HPR, MoS, to D-CFSA Aug55
c/n 127 G-AMGW to WAAC as VR-NAN 03Sep52, to Derby Aviation as G-AMGW 11Oct55
c/n 128 G-AMGX to WAAC as VR-NAO 26Sep52, to Balfour Marine G-AMGX as 28Apr55
c/n 129 G-AMHR to WAAC as VR-NAR 22Oct52, to Derby Aviation as G-AMHR 11Oct55
c/n 130 G-AMHS to WAAC as VR-NAS 14Nov52, to MoS (RAE) 21Feb55
c/n 133 G-AMHV to WAAC as VR-NAT 17Mar53, to MoS (RAE) 21Feb55
c/n 134 G-AMHW to WAAC as VR-NAU 08Jun53, to Jordan as VK501
---
Far East Air Lines
The first of two Marathons for Far East Air Lines (FEAL) was formally handed over by Sir Frederick Handley Page at Woodley, Reading, on 29th June 1954. FEAL was a start-up Japanese airline and majority held by the Handley Page agent in Japan, C Itoh & Co. The aircraft was accepted at Woodley by Admiral Todomi Nakamura, aviation manager of C Itoh. The aircraft were ordered to fulfil the airline's route from Osaka to Fukuoka - a distance of about 290 miles, FEAL hoping to extend its network south to Okinawa during 1955. The first machine was G-AMHY, soon to be placed on the Japanese civil register as JA-6009. The second machine followed before the end of August 1954.
The FEAL Marathons were equipped to carry 20 passengers, with seats arranged in pairs - four pairs on the port side and six on the starboard side. The airline operated its Marathons with a crew of two pilots and a stewardess. Radio equipment was supplied by STR and consisted of ADF receiver, VHF transmitter-receiver, HF transmitter and HF receiver. The Japanese aircraft were finished in a colour scheme comprising a white upper fuselage with fuselage flashes in dark and light blue and the Japanese flag on the outer fins. The interior colour scheme was light blue and cream.
G-AMHY departed Blackbushe for Tokyo on 7th August 1954, the ferry flight being done by Airwork, Ltd, with a crew comprising Senior First Officer Riley and Radio Officer Rylands. The 10,000-mile flight was expected to take nine days and routed via Nice, Bari, Athens, Tripoli, Basra, Bahrain, Sharjah, Karachi, Delhi, Allahabad, Calcutta, Rangoon, Tourane, Hong Kong, Taipei, Okinawa and Iwakuni.

JA-6009 'Naniwa'.
FEAL's Marathons began operations from Itami on 15th November 1954. In October 1955, FEAL temporarily suspended Marathon operations after loose wing bolts were found during the periodic inspection of one of the aircraft. They both returned to service within the month. Other than a minor accident to JA-6009 on 17th March 1956 (the nose gear failed to lock on landing at Osaka International Airport, causing damage to the nose section), the FEAL Marathons saw incident-free service. In 1958 they were retired, shortly before FEAL became part of the newly-formed All Nippon Airways. Both Marathons were then stored at Osaka. JA-6009 was removed to become a display aircraft atop Nagoya Airport's terminal building in September 1960, while the second Marathon, JA-6010, was for some time on display at the Tama-Tech amusement park near Tokyo. It has been reported that at least one of these aircraft survived until the early 1970s, at which point it would have been the last Marathon in the world.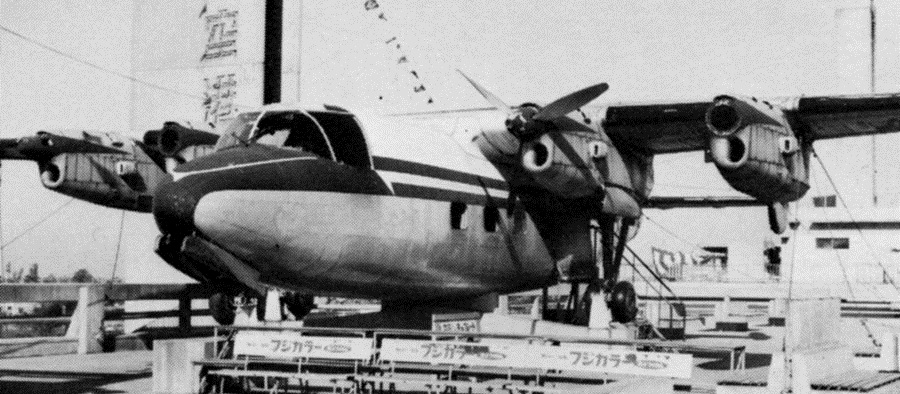 JA-6009 'Naniwa' atop the terminal building at Nagoya Airport, circa 1974.
Fleet:
c/n 136 G-AMHY to FEAL 21Jul54 as JA-6009 'Naniwa'. WFU 1958 and registration deleted 11Oct60
c/n 137 G-AMHZ to FEAL 29Dec54 as JA-6010 'Heiwa'. WFU 1958 and registration deleted 24Dec64
---
Derby Aviation (Derby Airways from 1959)
Formed at Burnaston airport near Derby in 1946, Derby Aviation Ltd initially undertook flight training, but from 1953 this operation ceased, concurrent with the award of a 6-year licence to operate scheduled flights from Burnaston via Wolverhampton to Jersey. The first flight was made on 18th July 1953 by a de Havilland Dragon Rapide but from 1955, the company bought its first Douglas Dakota, a 36-seater which also flew on the Jersey route. These flights usually cleared customs at Bournemouth (Hurn).
In October of the same year, two ex- West African Airways Corporation Marathons (c/n 127 G-AMGW (ex-VR-NAN) and c/n 129 G-AMHR (ex-VR-NAR)) were also purchased. In common with the airline's practice of naming its aircraft, G-AMGW was christened 'Millersdale' and G-AMHR 'Monsaldale', after dales in the Derbyshire Peak District. Derby Aviation converted the aircraft from 18-seat to 20-seat configuration and completed the Certificate of Airworthiness renewals in its Burnaston hangars.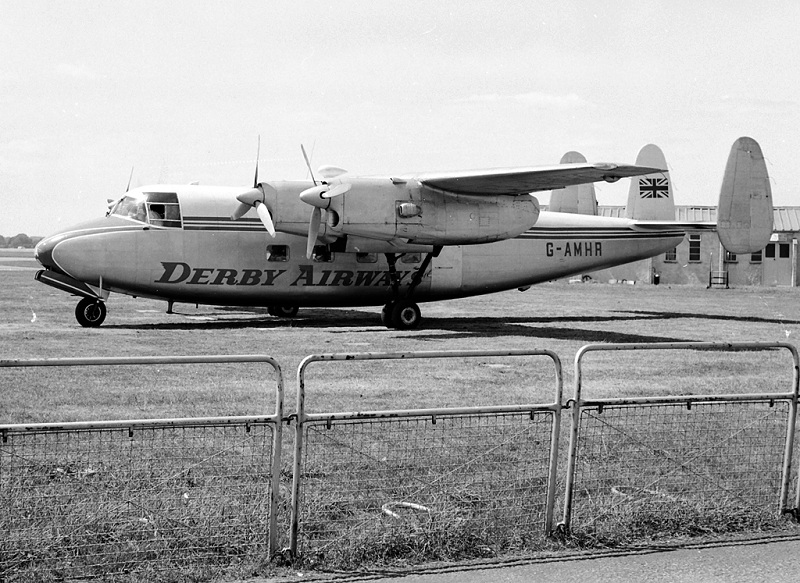 Seen at Hurn on 26th July 1959, G-AMHR was initially named 'Monsaldale'. (Jerry Hughes)
The Marathons were purchased to serve new short-haul services on both charter and scheduled work. For 1956 the airline started three new routes: Derby - Blackpool (fuel stop) - Isle of Man, Derby – Elstree (fuel stop) - Isle of Wight and Derby - Birmingham (customs) – Ostend, and the new machines were primarily aimed at these new destinations. On occasion the aircraft also operated on the Jersey route, but in these cases the aircraft operated with just 18 seats.
The Derby Aviation Marathons proved to be the only examples of their type to be used by a British airline and were approved for operation at weights up to 18,250 lb (8278 kg). They were able to operate from runways as short as 750 yards (685 m) in length and this enabled them to operate from minor airfields such as those found in the Isle of Wight.
During this period growth was rapid: the Dragon Rapides were removed from service and a second Dakota added. In 1955 Derby Aviation carried 6,200 passengers and in the following year that had more than doubled, to 12,560. For 1957 the airline added a Derby – Glasgow service and also began inclusive tour services from Birmingham and Blackbushe. This coincided with the arrival of a third Marathon – G-AMEW, an ex-RAF machine that had been purchased from the Ministry of Supply, having been de-converted from trainer configuration and placed on loan to HPR. It was collected from Woodley by Derby Aviation on 28th August 1957 and flown to Burnaston. It was named 'Matlockdale'.
At this time, Derby Aviation operated a flying school at Elstree and students taking their Civil Pilots Licence would, as soon as they had obtained their R/T licence, fly as pilot's assistant in a Marathon on the Derby - Glasgow run. This route was usually a one-crew operation, and so the pupil pilot was able to take advantage of the vacant right-hand seat.
In 1958, the company formed Derby Aerosurveys, Ltd at Elstree Aerodrome, Herts and performed geophysical survey work throughout Britain using Anson aircraft. The new offshoot was supported by Canadian Aero Service Ltd, which had expertise for this type of work. Derby Aerosurveys was mainly engaged in oblique photography, and it claimed that the Dakotas and Marathons of Derby Aviation could also be utilised for this mission if required.
Major fleet expansion began in 1958 with the acquisition of a third DC-3 and two more the following year. This enabled Derby Aviation to apply for a seven-year license for services from Cardiff - Bristol – Ostend, initially for three return flights per week, rising to seven return flights per week and running from Mav to September. A second seven-year licence was granted on the route Luton - Derby – Manchester – Dublin, seven return flights per week with Dakota aircraft and 14 return flights per week with Marathons. Services to both were scheduled to begin from 1st July 1959. Further applications were filed for concessions running Derby - Birmingham - Amsterdam (daily) and a specific Dakota route from Birmingham – Cardiff/Bristol – Bournemouth (customs) - Bilbao (weekly, rising to three per week). Other Marathon/Dakota applications were granted for daily departures from Cardiff and/or Bristol – Derby and flights to the Channel Islands were increased to cover the period when BEA terminated its summer operations at the end of each season. Brussels, Exeter, Newquay, Carlisle and Edinburgh were also added as destinations and all could be covered by either Marathon or Dakota aircraft.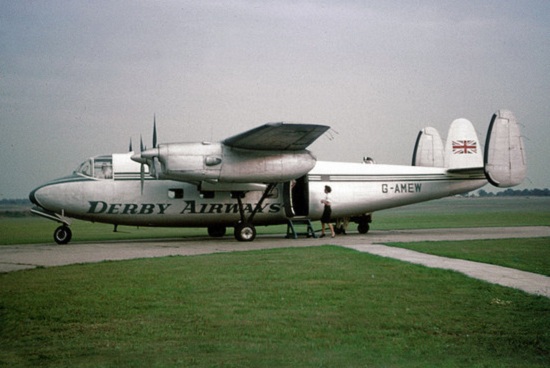 Resplendent in the revised 'Airways' colour scheme, G-AMEW awaits its passengers at Luton in 1959. (photo courtesy of Tom Cole)
As late as October 1960, when Derby Airways submitted Application No. 143/13 for permission to operate a number of existing services until 30th September, 1966 via a new stop at Cambridge, the Marathon was still included. However 1960 was the aircraft's final season with Derby Airways, and subsequently the airline expanded further to a fleet of eight DC-3s. The final Derby Airways Marathon service was completed on 26th September 1960, routing from Derby to Dublin and back, then on to Luton and return.
In October 1964 the company changed its name to British Midland Airways and went on to bigger things.
Fleet:
c/n 118 G-AMEW 'Matlockdale' (XA265) MoS, to Derby Aviation 28Aug57. Destroyed 17Feb64 but fuselage section to Berkshire Aviation Museum, Woodley
c/n 127 G-AMGW 'Millersdale', to Derby Aviation 11Oct55. Destroyed 17Feb64
c/n 129 G-AMHR 'Monsaldale', to Derby Aviation 11Oct55. Destroyed 17Feb64
One aircraft purchased for spares/scrap:
c/n 115 G-AMET (XA262), to Derby Aviation 16May59. Permanently WFU 23Oct59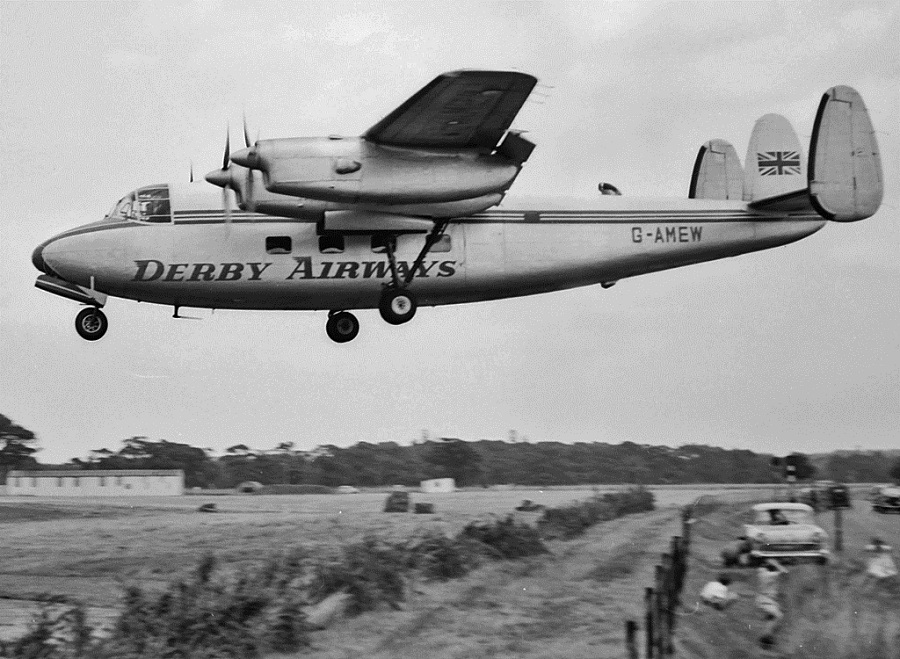 Another evocative photo of G-AMEW (cn 118), this time approaching low to land on Runway 35 at Bournemouth/Hurn. (photo courtesy of Jerry Hughes)
---
Air Navigation & Trading Co Ltd
On 25th August 1958, Air Navigation and Trading Company of Blackpool purchased the two RAE Marathons (XJ830 and XJ831) from the Ministry of Supply. These aircraft reverted to their civilian registrations (G-AMHS and G-AMHV, respectively) on 18th September. G-AMHV was despatched from Farnborough to Blackpool's Squires Gate airport on 2nd October, followed by 'MHS four days later.
Air Navigation & Trading Co Ltd had been established in 1946 and operated a mixed fleet of aircraft on general and contract charter flying, pilot training and aeronautical engineering. Illustrating the company's diverse operations, by 1958 its fleet comprised an Avro 19, three DH Rapides, two DH Dragons, a DH Drover, two DHC Chipmunks and a Percival Pembroke.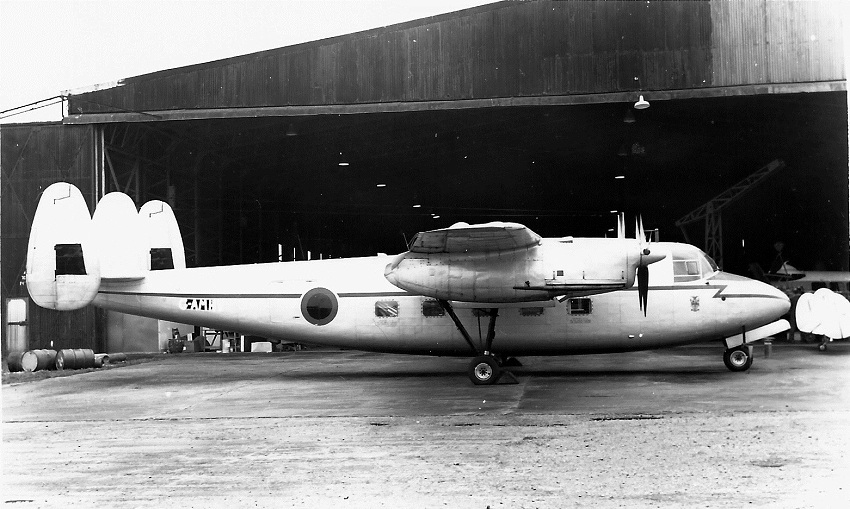 Carrying hastily-applied registration G-AMHV, this shows the aircraft at Squires Gate in September 1958, shortly after purchase by RL Whyham of Air Navigation & Trading. (photo courtesy of Peter Amos)
The Marathons were in service for just over three years. By 1961 Air Navigation had established a base in Canada, and though the records for G-AMHV indicate that it migrated there in March 1961 (as CF-NUH), it was eventually broken up at Wymeswold. G-AMHS was later sold to Airworks in Bournemouth.

Derelict at Wymeswold shortly before being broken up (Peter Amos)
Fleet:
c/n 130 G-AMHS to AN&TC 25Aug58. To Airwork Services Ltd, Bournemouth 08Nov61
c/n 133 G-AMHV to AN&TC 25Aug58, "to Canada" 11Mar61 but b/u Wymeswold 1963 (pwfu 27Oct64)
---
Balfour Marine Engineering Co Ltd
In the early 1950s, Samuel Norman of the Ilford-based Balfour Marine Engineering Company reached an agreement with the American AMi manufacturer, to build its jukeboxes under licence. The UK-built machines would be known as "BAL-AMi" jukeboxes and they would be built in Ilford. To help market these machines, Balfour bought a single Marathon (G-AMGX), which was registered to the company in April 1955. It was then fitted it out as the "BAL-AMi Ambassador" flying showroom. The aircraft was used to provide mobile displays throughout the UK.
At the centre of the Balfour empire was its playboy owner, Sam Norman. Born in Ilford in 1915, Norman had inherited the managing directorship of Balfour Marine upon his father's death and soon began expanding what was initially a component manufacturing concern into a company that would enable him to claim the title, "The Jukebox King of Europe", just at a time when rock'n'roll music opened this market for exploitation. He was soon able to set up a second factory at Le Touquet and owned an extensive property in Chigwell, along with a gold-painted Bentley Continental and a green Ferrari to go with it.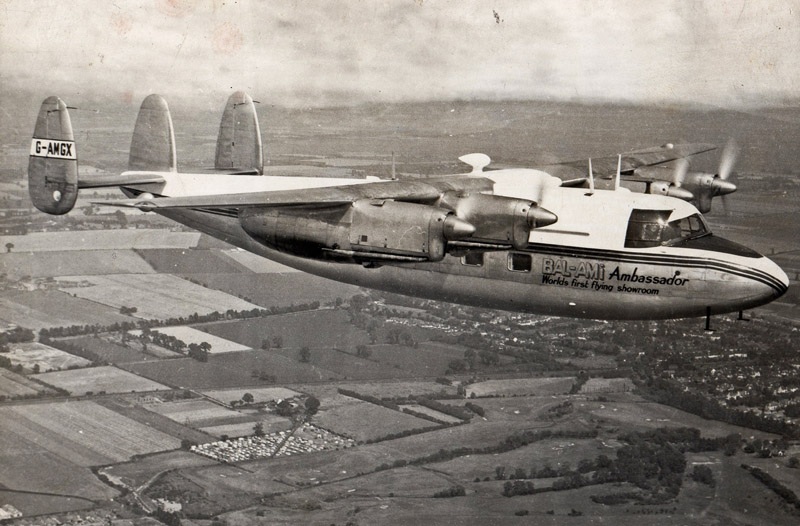 Sam Norman's BAL-AMi Ambassador, G-AMGX.
Sam Norman also learned to fly and owned his own Miles Gemini, which was based at Southend airport, along with his newly-acquired Marathon. Flight magazine during August 1955 informed readers that the aircraft was "…now being prepared for a tour of North America". It departed Heathrow on 18th August bound for Canada and the USA, but it seems those plans came to naught. Departing on the proposed tour, it was found that the installation of the jukeboxes had reduced fuel capacity to such an extent that the aircraft was now unable to fly the leg from Scotland to Iceland, and so it turned back to Southend.
The aircraft does seem to have been used throughout the United Kingdom for its intended purpose, but it had a short career and operated only from May 1955 until August 1956, when its Certificate of Airworthiness expired.
The Marathon was subsequently stored at Southend and was seen there, engineless, in 1960. It was scrapped circa 1962.

G-AMGX at Southend shortly after withdrawal from use. (Bert Clarke via Peter Amos)
Fleet:
c/n 128 G-AMGX to Balfour Marine Engineering Co Ltd 28Apr55. PWFU 28Nov62 at Southend
---
FG Miles Limited
Following the receivership of Miles Aircraft Limited, in 1949 Frederick Miles formed at new company, FG Miles Limited at Shoreham. The new organization then undertook a number of aircraft projects such as the M.100 Student jet trainer and a joint venture with Hurel Dubois on the HDM.105 light transport prototype. Miles also formed a number of offshoot companies, including Meridian Airmaps Ltd, Miles Development Products Ltd, Miles Electronics Ltd and Miles Plastics Ltd.
Therefore it came as no surprise when in March 1957, FG Miles Ltd applied to the Air Transport Advisory Council for a permit to operate summer season scheduled passenger services. The application was for the operation of DH Herons and HPR Marathons on the Shoreham – Dieppe run, to begin in 1957. Other summer services were included in the application, including Shoreham - Le Touquet, Shoreham – Guernsey – Jersey and Shoreham - Paris. However at this time, FG Miles possessed neither Heron or Marathon aircraft and no further action was taken in this respect.
Nevertheless, in December 1958, when RAF Marathons came up for disposal, FG Miles bought two aircraft (G-ALVY, ex-XA252 and G-AMHT, ex-XA274) from 10 MU storage at Hullavington. They were flown to Shoreham, still wearing their RAF colours and with hastily-applied civil registrations. Two further Marathons (G-AMER, ex-XA261 and G-AMGR, ex-XA269) followed in May of 1959.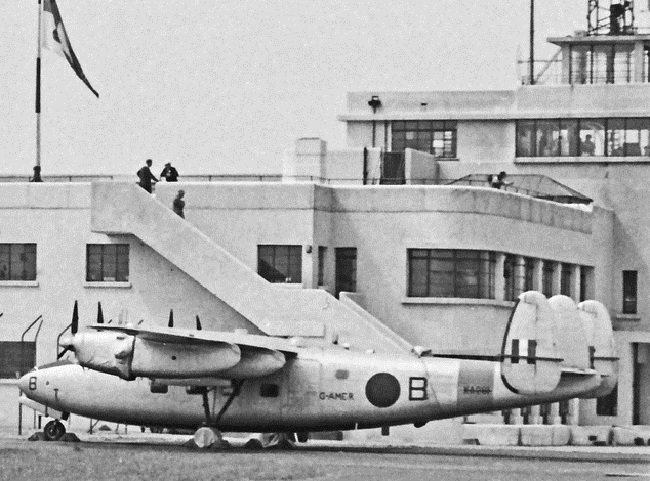 FG Miles' Marathon G-AMER (c/n 114) at Shoreham on 30th May 1959, shortly after arriving there. It did not fly again and was scrapped. (Jerry Hughes)
Though supposedly purchased for scrap, it is obvious that Miles sought to sell at least some of these aircraft on the civil market, and work commenced to convert G-AMHT into a 20-seat passenger aircraft. In September 1962 the aircraft was advertised for sale and described as, "Completed to C of A standard with all current mods. Only 280 hours since new and backed by comprehensive supply of spares. Cabin layout for 18 or 20 passengers." G-AMHT was advertised at £5,500 but did not sell. It remained at Shoreham and was scrapped there circa 1964.
The other three FG Miles Marathons had been scrapped in 1962, presumably contributing to the "comprehensive supply of spares" later to be offered with G-AMHT.
Fleet:
c/n 104 G-ALVY (XA252) 10 MU, to FG Miles Ltd 31Dec58. Scrapped 07Mar62
c/n 114 G-AMER (XA261) 10 MU, to FG Miles Ltd 11May59. Scrapped 07Mar62
c/n 122 G-AMGR (XA269) 10 MU, to FG Miles Ltd 27May59. Scrapped 07Mar62
c/n 131 G-AMHT (XA274) 10 MU, to FG Miles Ltd Dec58. Permanently WFU 23May64

G-AMHT was the last airworthy Marathon in the world. Like its other FG Miles stablemates, it ended up as landfill in a sandpit near Havant. (via Peter Amos)
---
Mess-und Verksstelle, Germany
Following its loan to West African Airways Corporation in early 1951, G-AMEO had returned to the UK and from 7th August 1951 became the property of Handley Page (Reading) Limited. It is likely that in line with many other Marathons it was stored at Blackbushe during this period, pending conversion for the RAF. In line with this it was transferred to Ministry of Supply in November 1951, but instead of being converted to a T.11 trainer the Marathon was returned to HPR ownership in July 1953 pending a sale.

Brightly-polished MVS Marathon D-CFSA carried a number of non-standard aerials for calibration work. (photo courtesy of Peter Amos)
In 1954 the German government applied for the purchase of aircraft for the calibration of airport radio and radar equipment. As a result contracts were agreed with Handley Page and de Havilland to acquire one example each of Marathon and Dove types for this role. The Marathon, c/n 112, arrived in Germany during January 1955, still carrying its British registration G-AMEO. Its flight crew and maintenance technicians consisted of British citizens until 1st April 1955, when the Federal Republic regained control over its air space. After this point the flight crew was replaced with German personnel. Maintenance of the aircraft was still done by British engineers until the end of the 1960s, via a servicing contract with British United Airways.
With the regaining of its airspace, Germany had set up a dedicated flight calibration unit of the Bundesanstalt für Flugsicherung (BFS, or federal institution for air traffic control), based in Frankfurt. The new unit was known as the Mess-und Verksstelle (Calibration and Test Unit - MVS) and initially operated the Dove and Marathon, but later other types were added to its fleet. On 11th June 1955 G-AMEO was placed on the German register and became D-CFSA. For the next few years it undertook radio calibration work.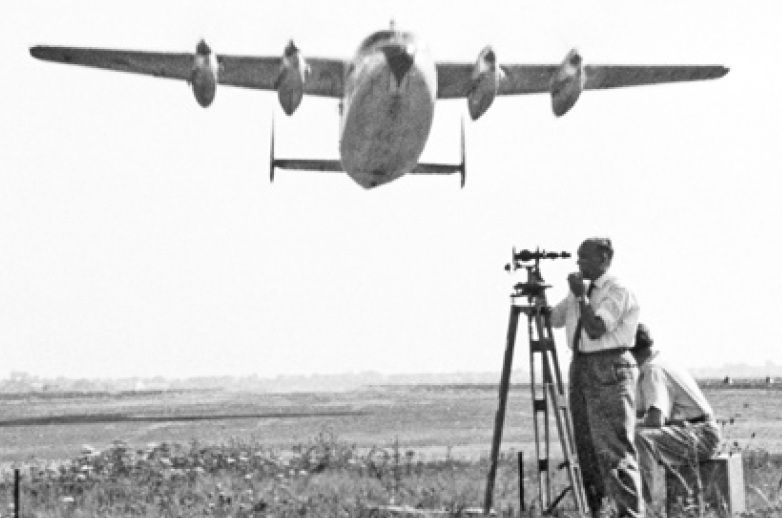 A fine view of D-CFSA, showing a typical airport calibration scenario.
At Frankfurt, the unit was located in a building close to what is nowadays Terminal 2. In the early days, flight inspection equipment was not commercially available and so the MVS had its own development department to design the measuring and calibration equipment, using commercially available components and adapting them for flight inspection purposes.
The Marathon was grounded in January 1962 due to increasing technical issues, but two further De Havilland Doves were purchased in 1962 and 1963 to increase the fleet to three aircraft.
Fleet:
c/n 112 G-AMEO, to BFS/MVS, Frankfurt as D-CFSA .55, wfu Jan62
---
Jordan
During 1954, an ex-West African Airways Corporation Marathon, VR-NAU (c/n 134) was purchased by the Royal Jordanian Air Force (RJAF) for use as a VIP transport. VR-NAU was transferred to Eagle Aviation at Blackbushe and then converted into a VIP configuration and the RJAF serial number VK501 was applied. Conversion was completed at the end of 1954 and in November the aircraft was delivered to Jordan.
Sadly the aircraft did not survive for long; it was damaged beyond repair in an unspecified incident the year after it was delivered.
The RJAF soon replaced the Marathon with a VIP Vickers Varsity, which was also converted by Eagle Aviation, and also given the serial number VK501.
Fleet:
c/n 134 VR-NAU/G-AMHW, to RJAF Nov54 as VK501. DBR 1955
Apparently taken at Blackbushe shortly before delivery, VK501 sadly saw little use in Jordan. Dark-coloured cheatline was red, as were the propeller spinners. Upper fuselage and tail section was cream in colour. (via Mike Fox)
---
Home