September 1957 brought a bout of influenza and poor weather, meaning that just 312.15 Marathon hours were recorded for No.1 Squadron against a target of 432 hours. Nevertheless the unit was able to supply five aircraft for static display at other units' Battle of Britain displays on the 14th of the month. These statically-displayed aircraft are undoubtledly the reason for the relatively good photographic coverage of 1 ANS Marathons. From 16th to 19th September the CFS Examining Wing visited Topcliffe and 11 Marathon pilots were checked; 3 at night and 8 during the daytime. High average assessments were recorded.

Prior to October 1957, maintenance of No.1 ANS aircraft had been done centrally, by multiple-speciality tradesmen. Under this scheme, Technical Wing would take charge of any maintenance and as a result, Marathon aircraft from No.1 Squadron would be repaired alongside the Vampires and Valettas of No.2 Squadron and often by the same men. It was therefore no great surprise to discover that having individuals responsible for three different types of aircraft, with different types of engines, fuel, spares and systems was a flight safety hazard. As a result, during October the ground crews were absorbed into the individual squadron organizations and now they specialised on just one type, separately under either Marathon Servicing Squadron or Vampire/Valetta Servicing Squadron. Bizarrely, on 1st January 1958 the station would revert to Centralised Servicing.

Meanwhile on 25th October the Valettas of No.2 Squadron had completed the first 1 ANS long-range training flight, on this occasion to Malta. The aircraft returned on 29th October. It would appear that Topcliffe's Marathons did not undertake similar overseas sorties. But throughout this period it is worth remembering that despite the numerous incidents and challenges, the training continued. On 9th October No.44 Navigation Refresher Course completed its training and on the 15th, No.9 Radio Observer Course graduated. The latter were reviewed by Gp Capt LM Laws, OC of Church Fenton upon their passing-out. Additionally, Topcliffe's first Acclimatisation Course - No.86 - commenced on 2nd October with 7 officers and was followed by No.87 Course before the end of the month.

Toward the end of the year, fog, snow, rain and an icy runway curtailed flying further. The OC No.1 Squadron, Sqn Ldr PG Hill relinquished command on 30th November and Sqn Ldr G Moss then assumed command. He was the third encumbent since March of the same year. On 26th November, No.11 Radio Observer Course graduated with eight cadets. This was the last such course to be undertaken at Topcliffe, with training of Radio Observers being suspended indefinitely. In their place, No.1 ANS began preparing for the first all-through Navigation Refresher course, which commenced on 11th December with 16 Acting Pilot Officers. During December a new Marathon issue was identified - this time the problem was that the aircraft's Rebecca aerials were breaking off in flight. It seemed the aircraft had few friends at this time and it is easy to see why: for various reasons, No.1 ANS had managed in just nine short months to remove five Marathons from service and unfortunately it was a trend that continued into 1958.

Another 1 ANS with an unhappy story. XA273 was allotted to Topcliffe on 27th February 1957 and is seen at RAF Ternhill's Battle of Britain Display on 14th September that year. Almost inevitably its service ended with an undercarriage collapse at Topcliffe on 22nd April 1958. (Bert Clarke via Peter Amos)
For No.1 ANS, 1958 began with more snow and ice, to the point that a rum issue was made to the airmen. Across the station, snowploughs were out in force and on many days the temperature stayed resolutely below zero. The weather further restricted the 315 hours of training flights that had been planned for the Marathons in January; just 192 were achieved. Nevertheless, No.49 Refresher Course was completed on 8th January and No.48 Course (by virtue of different training requirements), on the 22nd. There was more snow in February, with no flying at all from 22nd to 27th February, in what the squadron diarist described as, "The worst month that the squadron had so far experienced".

But changes were afoot, and with the arrival of the School's first Varsity aircraft in February, the days of Marathon operations were coming to an end. The Varsities were assigned to No.1 Squadron and for the next few months they only undertook conversion sorties for the staff crews before commencing training flights in May. Meanwhile, Marathon servicing was becoming notably labour-intensive and a work study group was formed to investigate ways to reduce the amount of overtime being worked on these aircraft. On 11th February XA268 suffered a nosewheel collapse on landing at Topcliffe. Initially thought to be repairable, it was re-classified as a Cat.5 write-off later the same day. A further Marathon, XA273, was declared a write-off following an undercarriage collapse on landing at Topcliffe on 22nd April. It was later discovered that the starboard drag strut had failed. Incredibly there was one more Marathon loss by No.1 ANS: on 5th May XA253 was written off after yet another undercarriage collapse, this time caused when Flt Lt DC Evers inadvertently selected the landing gear lever instead of the flaps. Evers was tried by General Court Martial on 4th June and severely reprimanded.

June 1958 was the last month in which No.1 ANS used the Marathon for navigator training. Just 159 hours were flown, while the ground crew made all efforts to complete outstanding repairs and get the aircraft ready for flying out for storage. The final aircraft, XA269, was flown out to Hullavington on 29th July 1958, Flt Lt DL Davies doing an appropriate 'beat-up' to mark the type's low-key withdrawal from service. There were many who were glad to see it happen.
XA275 was an ex-Thorney Island Marathon and somehow survived the heavy attrition at 1 ANS, Topcliffe from 18th March 1957 until retired to 10 MU at Hullavington on 10th July 1958. It was later sold for scrap to International Alloys Ltd. (via Peter Amos)
1 ANS Marathon Listing 1957 to 1958
| | | | | | |
| --- | --- | --- | --- | --- | --- |
| Serial No. | Code | Unit From | Date arrived at 1 ANS | Departure date | Unit to |
| | | | | | |
| XA250 | B | 2 ANS | 16-Mar-57 | 10-Dec-57 | written off following undercarriage collapse at Topcliffe |
| XA251 | H | 10 MU | 06-Jun-57 | 16-Nov-57 | written off after main spar failure |
| XA252 | M | 10 MU | 27-Jun-57 | 17-Jul-58 | 10 MU |
| XA253 | A | 2 ANS | 18-Mar-57 | 05-May-58 | written off following undercarriage collapse at Topcliffe |
| XA255 | M | 2 ANS | 18-Mar-57 | 07-Jan-58 | scrapped |
| XA256 | D | 2 ANS | 29-Apr-57 | 07-Nov-57 | written off after undercarriage inadverently raised |
| XA257 | O | 10 MU | 04-Mar-57 | 17-Jul-58 | 10 MU |
| XA258 | L | 2 ANS | 18-Mar-57 | 30-Jun-58 | 10 MU |
| XA259 | K | 2 ANS | 08-Apr-57 | 10-Jul-58 | 10 MU |
| XA261 | B | 10 MU | 18-Feb-58 | 17-Jul-58 | 10 MU |
| XA266 | J | 2 ANS | 21-Mar-57 | 26-Jun-58 | 10 MU |
| XA267 | Q | 10 MU | 08-Jul-57 | 27-Jun-58 | 10 MU |
| XA268 | G | 2 ANS | 21-Mar-57 | 11-Feb-58 | written off following nosewheel collapse at Topcliffe |
| XA269 | P | 10 MU | 05-Apr-57 | 29-Jul-58 | 10 MU |
| XA270 | F | 2 ANS | 18-Mar-57 | 26-Jun-58 | 10 MU |
| XA272 | H | 2 ANS | 21-Feb-58 | 18-Jul-58 | 10 MU |
| XA273 | C | 2 ANS | 27-Feb-57 | 22Apr58 | written off following undercarriage collapse at Topcliffe |
| XA275 | N | 2 ANS | 18-Mar-57 | 10-Jul-58 | 10 MU |
| XA276 | S | 10 MU | 31-Jul-57 | 18-Jul-58 | 10 MU |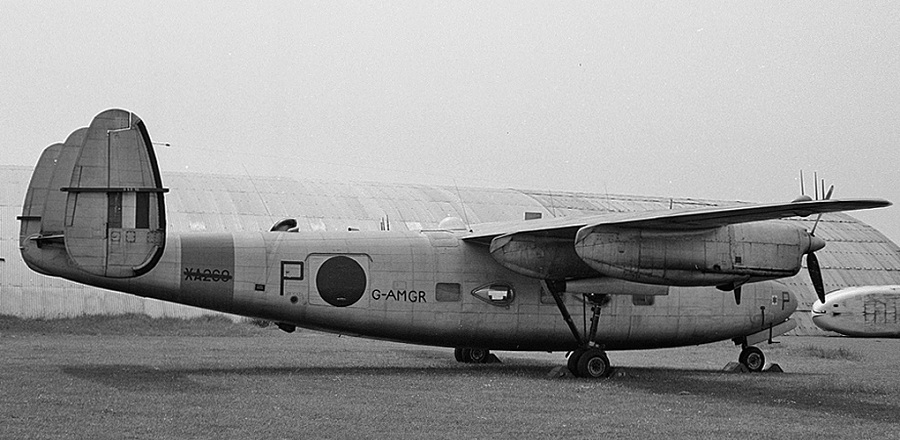 XA269/P was purchased by FG Miles of Shoreham after its retirement by the RAF. It was scrapped there in 1962, still wearing the hastily-applied civil registration it had worn for the flight from 10 MU at Hullavington. (Photo courtesy Jerry Hughes)
---
Home